Mundorf 99% silver/1% gold Foil - 11mm, 17mm, 28mm, 44mm and 70mm width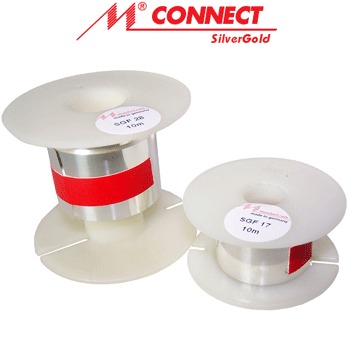 The absolute top of the range foil from Mundorf, composed of 99% silver combined with 1% gold, offering sublime performance. We have 5 widths of foils available for you to make your own interconnects and loudspeaker cables. Note well that the foil is un-insulated so you will need to insulate with tape or flat heat shrink. The thickness is 0.07mm.

No limit to length. Sold as a continuous length in multiples of 1 metre.
 If you require a length in excess of 4m continuous then please write this in the comments box when you place your order. There will be a 12-day dispatch for such an order.
PRICE 1m length
FOL.SG-11x0.07: (11mm width) £33.17+vat+p&p
FOL.SG-17x0.07: (11mm width) £48.61+vat+p&p
FOL.SG-28x0.07: (11mm width) £75.68+vat+p&p
FOL.SG-44x0.07: (11mm width) £126.18+vat+p&p
FOL.SG-70x0.07: (11mm width) £189.31+vat+p&p
Subscribe to Hifi Collective