ScanSpeak 15W, 8530K01 MidWoofer - Revelator Range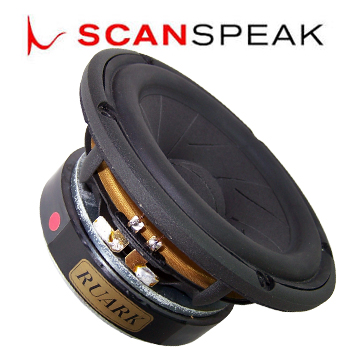 Replacement for the Ruark Solus bookshelf speaker woofer.
Revelator midwoofers are famous for their Scanspeak Sliced Paper Cones, the slices are filled with damping glue. The effect is to reduce break-up nodes in the 6" cone, and give a midrange clarity and overall smooth frequency response which has made this top audiophile range uniquely successful.
Die cast Aluminum Chassis vented below spider.
Low Loss linear suspension, large ferrite magnet system and a high output. Symmetrical Drive Motor System, Low Damping SBR Rubber Surround.
Specification:
Resonance frequency [fs] 32 Hz
Mechanical Q factor [Qms] 5.23
Electrical Q factor [Qes] 0.44
Total Q factor [Qts] 0.41
Force factor [Bl] 5.9 Tm
Mechanical resistance [Rms] 0.50 kg/s
Moving mass [Mms] 13g
Suspension compliance [Cms] 1.90 mm/N
Effective diaph. diameter [D] 110 mm
Effective piston area [Sd] 95 cm²
Equivalent volume [Vas] 24.0 l
Sensitivity (2.83V/1m) 84.5 dB
Ratio Bl/√Re 2.45 N/√W
Ratio fs/Qts 79 Hz
Electrical Data:
Nominal impedance [Zn] 8 Ω
Minimum impedance [Zmin] 6.9 Ω
Maximum impedance [Zo] 74.7 Ω
DC resistance [Re] 5.8 Ω
Voice coil inductance [Le] 0.35 mH
Power Handling: 
100h RMS noise test (IEC 17.1) 60 W
Long-term max power (IEC 17.3) - W
Voice Coil and Magnet Data:
Voice coil diameter 38 mm
Voice coil height 18 mm
Voice coil layers 2
Height of gap 5 mm
Linear excursion ± 6.5 mm
Max mech. excursion ± 9 mm
Unit weight 1.2 kg
Price: (1off)
£148.42 +vat +p&p
Subscribe to Hifi Collective