ScanSpeak 18W, 8531G00 MidWoofer - Revelator Range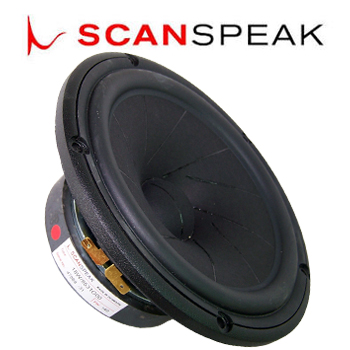 Revelator midwoofers are famous for their Scanspeak Sliced Paper Cones, the slices are filled with damping glue. The effect is to reduce break-up nodes in the 7" cone, and give a midrange clarity and overall smooth frequency response which has made this top audiophile range uniquely successful.
Symmetrical Drive SD-1 Motor, Die-Cast Aluminum Chassis vented below spider.
Low Loss linear suspension, large ferrite magnet system and a high output.
Specification:
Resonance frequency [fs] 28 Hz
Mechanical Q factor [Qms] 5.10
Electrical Q factor [Qes] 0.39
Total Q factor [Qts] 0.36
Force factor [Bl] 6.8 Tm
Mechanical resistance [Rms] 0.60 kg/s
Moving mass [Mms] 17.5 g
Suspension compliance [Cms] 1.85 mm/N
Effective diaph. diameter [D] 138 mm
Effective piston area [Sd] 150 cm²
Equivalent volume [Vas] 58.2 l
Sensitivity (2.83V/1m) 87 dB
Ratio Bl/√Re 2.82 N/√W
Ratio fs/Qts 77 Hz
Electrical Data:
Nominal impedance [Zn] 8 Ω
Minimum impedance [Zmin] 6.4 Ω
Maximum impedance [Zo] 81.6 Ω
DC resistance [Re] 5.8 Ω
Voice coil inductance [Le] 0.35 mH
Power Handling:
100h RMS noise test (IEC 17.1) 60 W
Long-term max power (IEC 17.3) - W
Voice Coil and Magnet Data:
Voice coil diameter 38 mm
Voice coil height 18 mm
Voice coil layers 2
Height of gap 5 mm
Linear excursion ± 6.5 mm
Max mech. excursion ± 11 mm
Unit weight 1.7 kg
Price: (1off)
£158.31 +vat +p&p
Subscribe to Hifi Collective