ScanSpeak 18W, 8546-01 MidWoofer - Classic Range - DISCONTINUED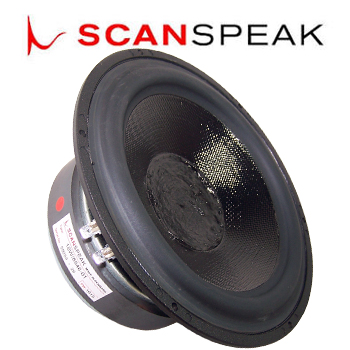 The Classic line consists of all the highly regarded transducers that have been appraised and loved by so many customers over the years. The goal has been to assemble all the diamonds, developed over the years, speakers that fully live up to the heritage of the brand.
THIS DRIVER IS NO LONGER IN PRODUCTION.
Driver features: Low loss rubber surround, kevlar cone, SD-1 motor.
This unit is the replacement for the iconic yellow 18W 8546-00 Driver. (The spec is exactly the same)
Specification:
Resonance Frequency fs 22 Hz
Mechanical Q factor Qms 1.7
Electrical Q factor Qes 0.22
Total Q factor Qts 0.19
Force factor Bl 8 Tm
Mechanical resistance Rms 1.5 Kg/s
Moving mass Mms 18.5 g
Effective piston area Sd 145 cm 2
Equivalent volume Vas 84 ltrs
Sensitivity (2.83V/1m) 88 dB
Electrical Data:
Nominal impedance Zn 8 ohm
DC resistance Re 5.5 ohm
Voice coil inductance Le 0.4 mH 
Power handling:
100h RMS noise test (IEC) 100 W 
Voice Coil and Magnet Parameters:
Voice coil diameter 42 mm 
Linear excursion +/- 6.5 mm
Max mech. excursion +/- 10 mm 
Price: (1off)
£124.86 +vat +p&p
Subscribe to Hifi Collective