ScanSpeak 18W, 8535-01 MidWoofer - Classic Range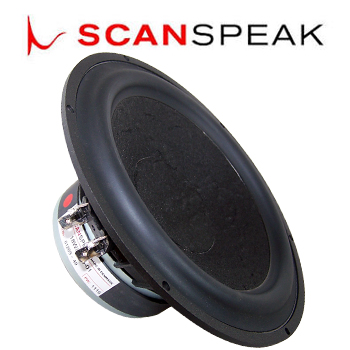 This unit is an improved version of the highly praised 18W/8535-00 midwoofer, where a new aluminum chassis and an updated cone as wells as a few other details are introduced, these updates improves mechanical stability and sound performance. Highquality magnet system design with patented Symmetric Drive(SD-1) continues to be key feature.
This is the replacement for the 18W, 8535-00 Driver.
Specification:
Resonance frequency [fs] 25 Hz
Mechanical Q factor [Qms] 2.10
Electrical Q factor [Qes] 0.46
Total Q factor [Qts] 0.38
Force factor [Bl] 5.9 Tm
Mechanical resistance [Rms] 1.35 kg/s
Moving mass [Mms] 17.2 g
Compliance [Cms] 2.30 mm/N
Effective diaph. diameter [D] 136 mm
Effective piston area [Sd] 145 cm²
Equivalent volume [Vas] 68.9 l
Sensitivity (2.83V/1m) 87.2 dB
Ratio Bl/√Re 2.44 N/√W
Ratio fs/Qts 67.4 Hz
Electrical Data:
Nominal impedance [Zn] 8 Ω
Minimum impedance [Zmin] 6.8 Ω
Maximum impedance [Zo] 32.0 Ω
DC resistance [Re] 5.85 Ω
Voice coil inductance [Le] 0.33 mH
Power Handling:
100h RMS noise test (IEC 17.1) 70 W
Long-term max power (IEC 17.3) 190 W
Voice Coil & Magnet Data:
Voice coil diameter 38 mm
Voice coil height 15 mm
Voice coil layers 2
Height of gap 5 mm
Linear excursion ± 5 mm
Max mech. excursion ± 10 mm
Unit weight 1.1 kg
Price: (1off)
£122.89 +vat +p&p
Subscribe to Hifi Collective