CMC-858-L-CUR Red Copper, long binding posts (Pair)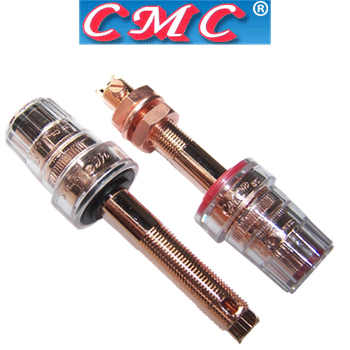 High-End long length binding posts from CMC, pure copper conductor, red copper plate, nylon insulation washers & clear polycarbonate insulation. Suitable for 4mm bananas (top access), spades, bananas and bare wire (side access). Solderable or screw connections.
The external part is clear PTFE insulated. Chassis insulation washers are coloured Teflon di-electric. 2 nuts and 1 washer are provided for each connector. 
Chassis cutout 11.5mm dia.
Overall dimensions: maximum 20mm width x 67mm length closed, 72mm length open.
The side hole diameter for bare wire is 5.4mm.
Suitable for chassis of 10mm - 32mm thickness (solder connection only) or 10mm - 25mm (solder or grub screw connection)
Sold in pairs, marked red & black.
PRICE (pair)
£21.00 +vat+p&p
Subscribe to Hifi Collective