CMC-838-S-CUR Red Copper, short binding posts (Pair)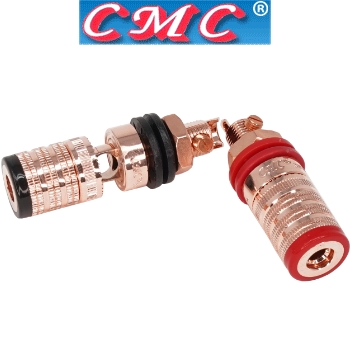 New from CMC are these low cost, solderable copper or grub screwed speaker posts. Will receive a banana plug through the top and 4.5mm diameter bare wire from the side.
The overall length is 50mm fully extended or 43mm closed, the external portion measures 23mm in length closed, maximum external diameter is 14mm. 11.5mm diameter chassis cutout is required.
The diameter of the washer is 16mm. Can fit chassis up to 8mm if soldered or 3mm with grub screw connection.
If using spades or bare wire it features having the added benefit of utilising a contact washer, so it does not rip wire strands or scratch the surface of the spade.
Sold in pairs, one with red insulation washers and top marker and one with black insulation washers and top marker.
PRICE per pair
£19.68 +vat+p&p
Subscribe to Hifi Collective