CMC-858-S-PCUR Red Copper Plated, small binding posts (Pair)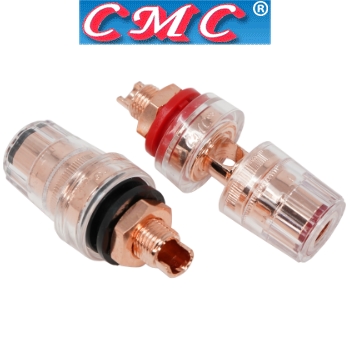 High-End small in length binding posts from CMC, high copper content brass conductor, thick red copper plating, nylon insulation washers & clear polycarbonate insulation. Suitable for 4mm bananas (top access), spades, and bare wire (side access). Solderable only.
Chassis cutout: 11.5mm diameter
Overall dimensions: maximum 20mm width x 42mm length closed, 50mm length open.
The side hole diameter for bare wire is 5.4mm.
Suitable for chassis of up to 6mm thickness.
Sold in pairs (red & black).
PRICE (pair)
£10.00+vat +p&p
Subscribe to Hifi Collective