CMC-878-M-G Gold plated, medium loudspeaker posts (Pair)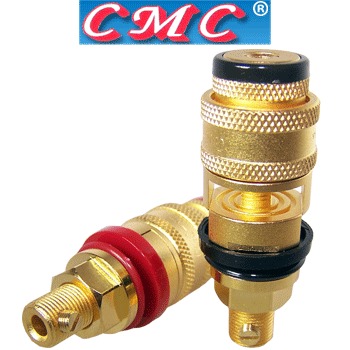 These heavy-duty binding posts are made from high copper content material with a thick gold plate. They can receive a standard 4mm banana plug through the top (with a locking system for very close contact) and a spade connector from the side (overall dimension of the spade - width less than 16mm, opening over 5mm). For the internal connection, they can receive wires up to 4mm in diameter, grub screw fit.
The chassis cutout diameter is 10mm.
Post sold with isolation washers, red and black.
Overall Dimensions: length is 55mm, external 35mm, internal 20mm. Widest diameter 20mm.
Sold in pairs, 1 marked red and 1 black.
Price (1 pair)
£19.68 +vat +p&p
Subscribe to Hifi Collective