Seas 22TFF Tweeter, H1280-06 - Prestige Series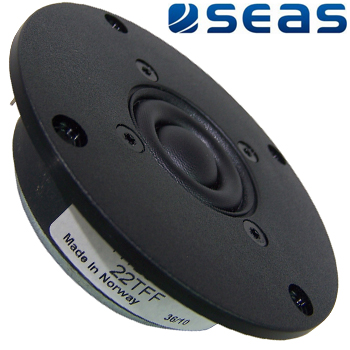 22TFF is a High Definition soft dome tweeter with a wide surround combining the high-frequency dispersion of a ¾" dome with the low-frequency characteristics of a 1" dome.
One-piece Sonomex dome and surround allow for very tight production tolerances and high consistency, with smooth and extended frequency response.
Voice coil windings immersed in magnetic fluid for increased power handling capacity and reduced compression at high power levels.
The chassis is molded from a stiff and stable glass fibre reinforced polymer material, and its front design offers optimum radiation conditions.
Large ferrite magnet for high efficiency, and good transient response.
Specification:
Nominal Impedance: 6 Ohms
Recommended Frequency Range: 2500 - 20000 Hz
Short Term Power Handling: 180W
Long Term Power Handling: 90W
Characteristic Sensitivity 91 dB
Voice Coil Diameter: 19.5mm
Voice Coil Height: 1.6mm
Air Gap Height: 2.0mm
Linear Coil Travel (p-p): 0.4mm
Voice Coil Resistance: 1.9Ohms
Voice Coil Inductance: 0.05mH
Force Factor 3.3 N/A
Free Air Resonance: 1050 Hz
Moving Mass: 0.25g
Effective Piston Area: 5.9cm2
Magnetic Gap Flux Density: 2.0T
Magnet Weight: 0.25kg
Total Weight: 0.5kg
PRICE (1 off)
£36.30 +vat+p&p
Subscribe to Hifi Collective