Seas 25TFFN/QG Tweeter, H0625-06 - Prestige Series - DISCONTINUED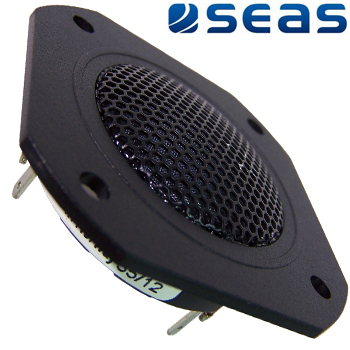 Compact neodymium magnet tweeter with a square chassis for high quality speaker design in small cabinets or automobiles.
Precoated Sonotex fabric diaphragm and suspension allows for very tight production tolerances and high consistency.
A Hexagrid protects the diaphragm.
Very low magnetic stray fields make this unit suitable for A/V systems.
Voice coil immersed in magnetic fluid, allowing high power handling capacity and simplified crossover design.
This Tweeter is no longer in production.
Specification:
Nominal Impedance: 6 Ohms
Recommended Frequency Range: 3000 - 25000 Hz
Short Term Power Handling: 220W
Long Term Power Handling: 89W
Characteristic Sensitivity 89 dB
Voice Coil Diameter: 26mm
Voice Coil Height: 1.5mm
Air Gap Height: 2.0mm
Linear Coil Travel (p-p): 0.5mm
Voice Coil Resistance: 4.8Ohms
Voice Coil Inductance: 0.05mH
Force Factor 2.45 N/A
Free Air Resonance: 1800 Hz
Moving Mass: 0.3g
Effective Piston Area: 7.0cm2
Magnetic Gap Flux Density: 1.3T
Magnet Weight: 0.01kg
Total Weight: 0.1kg
PRICE (1 off)
£20.95 +vat+p&p
Subscribe to Hifi Collective