Seas 27TFF Tweeter, H0831-06 - Prestige Series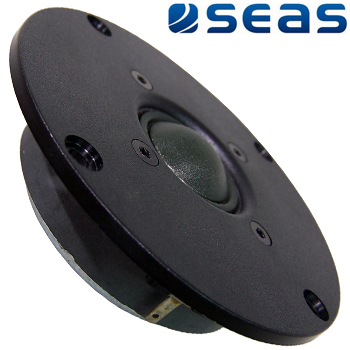 27TFF is a High Fidelity precoated fabric dome tweeter with an integrated wide surround.
Sonolex precoated lightweight fabric diaphragm with high consistency and excellent stability against variations in air humidity.
Voice coil windings immersed in magnetic fluid increase short-term power handling capacity and reduce the compression at high power levels.
An optimally damped cavity in the pole piece controls and slightly lowers the fundamental resonance.
The chassis is precision molded from glass fibre reinforced plastic, and its front design offers optimum radiation conditions.
Specification:
Nominal Impedance: 6 Ohms
Recommended Frequency Range: 2000 - 25000 Hz
Short Term Power Handling: 220W
Long Term Power Handling: 90W
Characteristic Sensitivity 90 dB
Voice Coil Diameter: 26mm
Voice Coil Height: 1.5mm
Air Gap Height: 2.0mm
Linear Coil Travel (p-p): 0.5mm
Voice Coil Resistance: 4.8 Ohms
Voice Coil Inductance: 0.05 mH
Force Factor 3.5 N/A
Free Air Resonance: 1200 Hz
Moving Mass: 0.30g
Effective Piston Area: 7.5cm2
Magnetic Gap Flux Density: 1.8T
Magnet Weight: 0.25kg
Total Weight: 0.5kg
PRICE (1 off)
£39.10 +vat+p&p
Subscribe to Hifi Collective