Neotech NEP-3160 UP-OCC Copper Mains Cable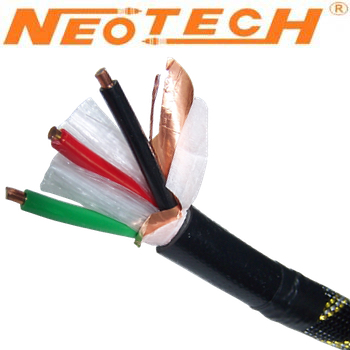 The NEP-3160 is the lesser-known of the Neotech mains cables. Consisting of 3 solid core 9 AWG (2.9mm diameter) conductors individual sheathed in FEP (fluoropolymer) insulation, the diameter with a sheathing of each conductor is 4.75mm. The Neotech NEP-3160 uses UP-OCC (Ohno continuous cast) copper so the purity and structure are second to none. The Neotech NEP-3200 is among the best bulk cables on the market and is especially ideal for high current amplifiers, as well as feeding power strips or line conditioners. This cable is seriously meaty. 
The 3 conductors are Black sheathed (NEUTRAL), Red sheathed (LIVE) and Green sheathed (EARTH). The overall diameter is 15mm. There is present a thin exposed copper wire running alongside the conductors. These are wrapped in a thin copper foil and further wrapped in a thick (2mm walled) black PVC OD sheathing. The final outer layer is a woven mesh expandable sleeving. 
The overall diameter is 15mm.
PRICE per 0.25m length
£23.38 +vat+p&p
Sold in 0.25m multiples, we supply in a continuous length, so if you require 1m then please order 4 off.
Subscribe to Hifi Collective