Neotech NEP-3003 MKIII UP-OCC Hybrid Mains Cable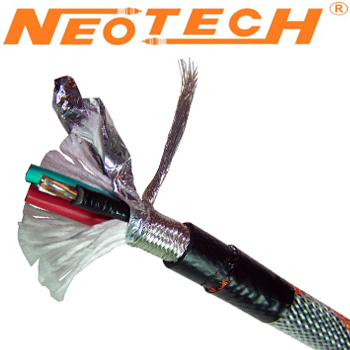 NEP-series power cord cables use world-patented UP-OCC Technology Silver & Copper conductors and have "UL" approved CL3 PVC inner insulation. Neotech NEP-series provides powerful current for the Hi-end system with high-quality sound reproduction and better dynamics.
This cable is made up of 3 conductors each CL3 PVC insulated coloured red, black or green. Each conductor is multistrand UP-OCC copper & UP-OCC multi-strand silver-plated copper with a diameter of 2mm and an overall diameter of 3.65mm with insulation. The inner core of the cable is padded with cotton fibre. The core is covered with mylar fibre and then a tinned OFC braid then outer insulation is a black PVC jacket and finally grey and orange expandable sleeving.
See the image below of the built example cable using the Neotech NEP-3003 MKIII cable, NC-411G UK Plug and NC-P303 IEC Plug.
The overall diameter is 11mm.
PRICE per 0.25m length
£16.92 +vat +p&p
Sold in 0.25m multiples, we supply in a continuous length, so if you require 1m then please order 4 off.
Subscribe to Hifi Collective