Neotech NEP-3001 MKIII UP-OCC Hybrid Mains Cable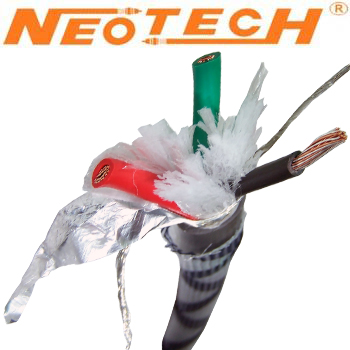 The Neotech NEP-3001 MKIII mains cable is a heavy-duty power cord with an overall diameter of 16.5mm. Each of the 3 conductors is 10AWG, made up of a mix of multistrand wires of silver-plated UP-OCC copper and unplated UP-OCC copper. Each conductor has a diameter of 3.5mm and an outer diameter of 5.5mm, sheathed in red (LIVE), black (NEUTRAL), or green (EARTH) PVC. They are held in place with fibres. The overall covering is an expandable braided poly sleeving, covering a thick PVC jacket, then a tinned OFC copper braid over an aluminium mylar foil.
Suitable for mains cable construction and mains spur wiring.
Rated at 600V, 30A so plenty for most systems.
The overall diameter is 16.5mm.
PRICE per 0.25m length
£21.55 +vat +p&p
Sold in 0.25m multiples, we supply in a continuous length, so if you require 1m then please order 4 off.
Subscribe to Hifi Collective