ClarityCap CMR Capacitors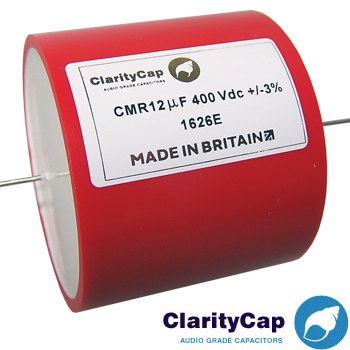 Building on the success of their high end range of MR capacitors, Clarity Cap have launched the all new CMR range.  As with the MRs they are manufactured in such a way to substantially reduce the negative effects of resonance on sonic quality which is inherent in a wound component. This results in a sonic characteristic which is difficult to equal. Manufactured from metallised polypropylene film the component is housed in a coloured acrylic tube and encapsulated in an epoxy resin to assist in the overall sonic performance.
The CMRs differ in how the lead outs are joined to the capacitor electrodes.
Connection of capacitor electrodes to the leads has always relied on thermal arc spray of tin-zinc, which results in hundreds of thousands of oxidised grain boundaries introducing; distortion and phase shifts at boundary crossings and increasing propagation impedance with diameter. CopperConnect technology introduces an embedded copper lattice to the end connection, dramatically reducing grain boundary crossings and signal path resistance, freeing capacitor designs achieve new levels of audio performance. CopperConnect technology dramatically reduces grain boundary crossings in the end connection and enables designs to employ narrower films for reduced capacitor ESR without introducing the corollary increase in end connection impedance. The philosophy of eliminating as many crystal boundaries as possible is extended to the use of premium grade 1.0mm2 tinned oxygen free copper leads. We are confident you'll agree ClarityCap's commitment to innovation has once again raised the bar for audiophile film capacitor performance.
They are available in both 400Vdc and 630Vdc ratings.
Specifications
Tolerance ±3% standard
Dissipation factor = 0.001 @ 1KHz & 20±3°C
Insulation resistance = 104MO-µF @ rated voltage & 20±3°C
Rated voltage 400Vdc & 630Vdc
Dielectric absorption = 0.1% @ 20±3°C
Temperature range -55 to +100°C
Environmental category 55/100/56 to EN 60068 - 1 (IEC 68 - 1)
Proof voltage test 1.5 x rated voltage for 30s. Not to be repeated
Vibration EN 60068 - 2 - 6 (EIC 68 - 2 - 6) Test Fc
100 to 500 Hz 0.75mm or 98m/s2
Bump EN 60068 - 2 - 29 (EIC 68 - 2 - 29) Test Eb
400m/s2 1000±10 bumps
All leadouts are bare OFC copper solid core 1mm diameter
Subscribe to Hifi Collective