ClarityCap ESA Capacitors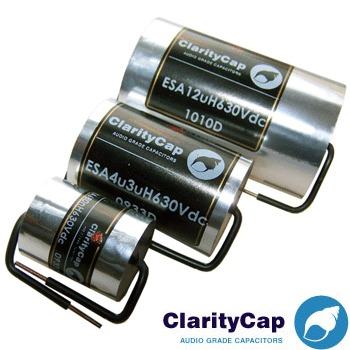 ClarityCap have been manufacturing high quality audio grade capacitors in the UK for the last 20 years, The ESA range is a step up from the SA range, building up from the knowledge gained during the extensive research programme recently undertaken by ClarityCap.
The research programme looked into ways of reducing mechanical resonances inherent in a wound capacitor to hitherto unachievable levels. ESA capacitors are designed to offer a mid way house between the highly regarded SA range and the new no compromise MR range. Manufactured from polypropylene film the component is supplied in the familiar wrap and end seal style, wrapped in a polyester tape and encapsulated in an epoxy resin. They are available in both 250Vdc and 630Vdc ratings.
NEW IN the 250Vdc range!!! Also we have 10 new values below 0.1uF at 630V!!!
Specifications
Tolerance ±3% standard
Dissipation factor = 0.001 @ 1KHz & 20±3°C
Insulation resistance = 10Mohm-µF @ rated voltage & 20±3°C
Rated voltage 250Vdc & 630Vdc
Dielectric absorption = 0.1% @ 20±3°C
Temperature range -40 to +70°C
Leadouts for 0.01uF to 0.082uF 630V are multistrand PVC covered 16/0.2 nickle plated copper
All other leadouts are OFC copper solid core 1mm diameter PVC covered
Subscribe to Hifi Collective