ClarityCap PX Capacitors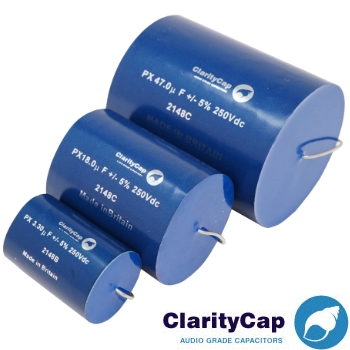 The PX range is fast growing into a favourite worldwide capacitor of choice. It is currently specified by some of the best-known brands throughout Europe, North America, and Asia with its unsurpassed performance to price ratio making it a very attractive proposition for loudspeaker applications.
Constructed from a 250Vdc (6μM) rated film the component is spindle wound. It is then given a special heat treatment before the insulated copper terminals are hand soldered to achieve the best possible connection.

The inherently low dissipation and dielectric absorption factors of polypropylene allied with excellent mechanical stability result in an extremely detailed sonic performance. The construction also results in a low self-inductance and ESR (Equivalent Series Resistance) and the devices are highly stable with regard to temperature and frequency.

Tape and resin colours are flexible, further details are available on page 24. Unless otherwise specified capacitors are supplied with blue tape and blue resin.
The ClarityCap PX range capacitor has a 5% tolerance.
Subscribe to Hifi Collective