ClarityCap MR Capacitors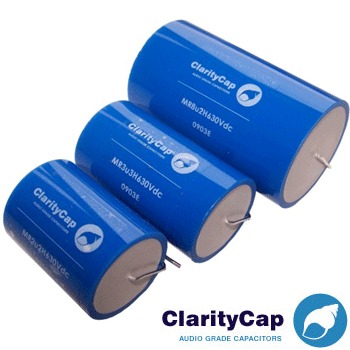 The MR range of capacitors is the result of an extensive ground breaking 2 year research programme into audio grade capacitors.
The resulting capacitor is at the leading edge of today's high quality audio grade capacitors The component is manufactured in such a way to substantially reduce the negative effects of resonance on sonic quality which is inherent in a wound component. This results in a sonic characteristic which is difficult to equal. Manufactured from metallised polypropylene film the component is housed in a coloured acrylic tube and encapsulated in an epoxy resin to assist in the overall sonic performance.
NEW IN - the 400Vdc MR range.
Specifications
Tolerance ±3% standard
Dissipation factor = 0.001 @ 1KHz & 20±3°C
Insulation resistance = 104MO-µF @ rated voltage & 20±3°C
Rated voltage 400Vdc & 630Vdc
Dielectric absorption = 0.1% @ 20±3°C
Temperature range -55 to +100°C
Environmental category 55/100/56 to EN 60068 - 1 (IEC 68 - 1)
Proof voltage test 1.5 x rated voltage for 30s. Not to be repeated
Vibration EN 60068 - 2 - 6 (EIC 68 - 2 - 6) Test Fc
100 to 500 Hz 0.75mm or 98m/s2
Bump EN 60068 - 2 - 29 (EIC 68 - 2 - 29) Test Eb
400m/s2 1000±10 bumps
Subscribe to Hifi Collective