ClarityCap SA Capacitors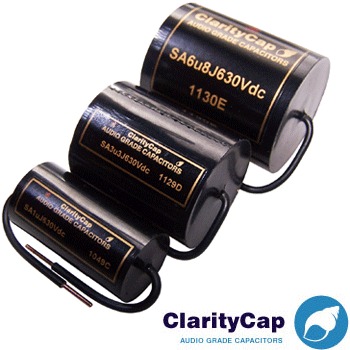 ClarityCap have been manufacturing high quality audio grade capacitors in the UK for the last 20 years, their line of polypropylenes have been developed in conjunction with industry manufacturer and more and more people are appreciating the difference that a ClarityCap capacitor makes to sound quality.
Specially developed to meet the needs of the professional audio engineer in both hi-fi and studio monitoring, these components are the result of extensive consultation between the audio industry and ClarityCap. ClarityCap manufacturer several ranges of capacitor, we feel that the SA range have a superb sound at a great price.
The SAs are hand wound using a 10µm(630Vdc) rated polypropylene film. Following a special heat treatment cycle, insulated copper terminals are hand soldered to give the best possible connection. The inherently low dissipation and dielectric absorption factors of polypropylene allied with an excellent mechanical stability results in an extremely detailed sonic performance.
The construction also results in a low self-inductance and ESR and the devices are highly stable with regard to temperature and frequency. Capacitors are supplied with black tape and black resin.
Great for xover components, signal paths in amps, the high capacitance values superb for valve PSUs.Hand soldered leads with copper leadouts. Low cost and high reliablilty.
Specifications
Dielectric: metallized polypropylene
Tolerance: +/- 5%
Dissipation factors: <= 0.001 @ 1KHz(at 20 +/-3 degrees C)
Insulation resistance: >= 10Mohm-uF @ rated voltage (at 20 +/-3 degrees C)
Rated Voltage: 630V dc
Dielectric absorption: <= 0.1% (at 20 +/-3 degrees C)
Temperature range: -55 to +100 degrees C
Subscribe to Hifi Collective