ClarityCap TC, 2 Terminal PSU Capacitors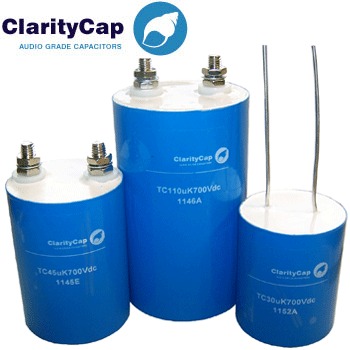 The TC range has been developed to give Valve Amplifier designs a new level of responsiveness. Manufactured from polypropylene film, precisely metallised with a unique pattern that greatly enhances self healing, these capacitors offer a dramatic performance improvement over electrolytic types. The TC capacitor's equivalent series resistance (ESR) and inductance are a fraction of that of an electrolytic, and therefore instantly deliver all their power precisely when it is needed. The dry construction additionally ensures that the performance is retained through out the expected lifetime of the amplifier.

In electrolytic capacitors evaporation of the electrolyte reduces capacitance and increases ESR dramatically during the lifetime leading to performance degradation. In professional equipment, frequently shipped in unpressurised aircraft holds, this process is accelerated.

The 700Vdc and 800Vdc rating eliminates any requirement for complex series connection of multiple capacitors. In addition the TC range are un-polarised making assembly simpler and less error prone.
This TC range of capacitors offer an exciting alternative to the Mundorf TubeCap range of power supply capacitors.
Subscribe to Hifi Collective