Neotech NEMOS-3080: Rectangular OCC Copper Speaker Cable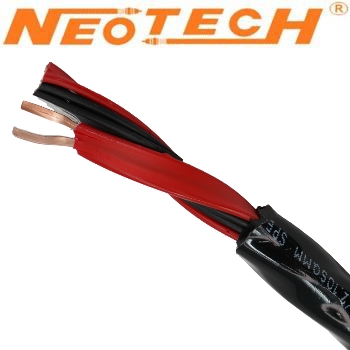 Neotech NEMOS-3080 rectangular OCC copper conductor speaker cable.
This cable is made of 4 cores (2 x red and 2 x black) each measuring 6.5mm x 1.65mm. With 2 rectangular copper conductors in each core, the copper measures 1.7mm x 0.22mm making a total of 14.5 AWG (1.85 SQMM) for the 4 x signal conductors, and 14.5AWG for the 4 x return.
Each copper conductor is then Teflon insulated.
The 4 cores are then insulated with a layer of Polyethene before a PVC Outer Jacket.
Outside Diameter (with PVC Outer Jacket): 12.5mm
This can be used for standard wiring or bi-wiring.
Supplied in continuous lengths of 1m, to make 2m stereo speaker cables, 4m are required.
PRICE (1 metre)
£47.62 +vat +p&p
Subscribe to Hifi Collective