Neotech NES-3004: UP-OCC Copper Speaker Cable - DISCONTINUED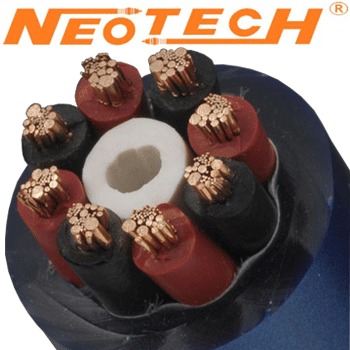 The super Neotech NES-3004 consists of an outer blue PVC insulation, marked with the cable type and direction arrows, the overall diameter is 13mm. Central to the cable is a white PVC ventral cord around which are 8 conductors, 4 red and 4 black (PVC insulation), alternate colours as you go round. An additional 2 conductors than the NES-3005.
The dimensions of one conductor (1 red or black conductor) is 3.5mm external diameter, and 1.3mm (16awg) wire diameter. The overall size of the conductors (all red or all black conductors) is 11 AWG (2.3mm diameter). Due to the high AWG figure of each conductor, the cable could happily be used for bi-wiring.
The NES-3004 is sold in 1-metre continuous lengths. To make 2m stereo speaker cables, 4m are required.
Please Note: This is a discontinued line, and has been superseded by the NES-3004 MKII version. Click BUY NOW to go to the MKII page.
Subscribe to Hifi Collective