Glasshouse Interconnect Cable Kit No.9 - NO LONGER AVAILABLE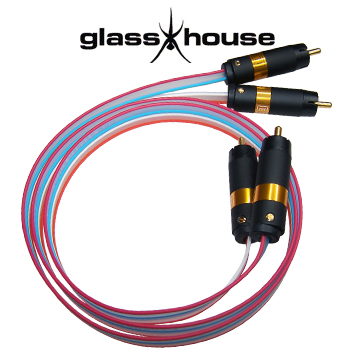 The glasshouse interconnect kit No.9 combines two great components, the superb DNM design interconnect cable and ETI's famous Copper LINK RCA plugs. The cable design makes for a very simple interconnect that doesn't require any form of sleeve or shielding; it also houses both channels in one ribbon making it a very tidy interconnect solution. The cable is an easy build for anyone who is familiar with a soldering iron. So how does it sound? This cable offers very accurate music reproduction; it has great detail and timing but isn't over bright. 
Instructions: (please refer to images step 1-3 below)
Using a sharp Stanley knife, cut down between the blue and white wires 10cm to separate the channels.
Then cut alongside each of the wires 6cm and remove this 6cm of the polyurethane that separates the wires.
Strip the ends of each of the wires 3mm, and tin with a small amount of solder.
Separate all of the RCA plugs, loosen the grub screws and fit the grommets, then gently tighten the screws again.
The wiring of these cables is as follows, the two red outer wires are the signals, and the white and blue are the earths, the two wire gauges are not the same - so this is important. Remember that the signal is the center pin and the earth is the outer.
Slide one black RCA rear section over the red and blue pair, and then solder the wires to the ETI LINK plug. Try and get the wires to contact the pins on the plug before you start soldering so that your not pushing the wire onto the pin with the iron, as they will tend to move away again when the iron is moved away but the solder is still molten.
Repeat the process for the red RCA plug on the Red and white pair, and then the same on the other end.
It is always good practice to check your soldering and channels for continuity with a multi-meter before using a cable – even if it seems obvious.
Available from 0.5m pair to 2m pair, supplied as a kit or finished cables (+£20.00)
Contents: (for a pair of 1m cables)
1m DNM Design Interconnect wire Version 3
4x Eichmann Copper LINK RCA Plugs
4x Eichmann grommets
1m Mundorf 3.8% silver/gold solder
Price: (From)
£71.35 +vat +p&p
Subscribe to Hifi Collective