Seas CA26RFX Woofer, H1305-08 - Prestige Series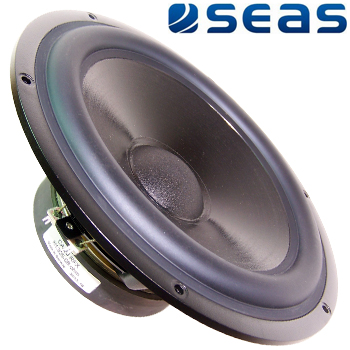 Classical hand-coated paper cones and matching natural rubber surround produce a well-behaved roll-off characteristic and reduce potential resonance problems.

2" high-temperature voice coil with black anodized aluminium coil former gives high power handling and reduced power compression.

A large magnet system gives good sensitivity and transient response. Bumped backplate in the magnet system allows maximum utilization of the long voice coil without mechanical limitation.

Extremely stiff and stable injection molded metal basket keeps the critical components in perfect alignment. 

Large windows in the basket both above and below the spider reduce sound reflection, air flow noise, and cavity resonance to a minimum.
Specification:
Nominal Impedance: 8 Ohms
Recommended Frequency Range: 30 - 1000 Hz
Short Term Power Handling: 300 W
Long Term Power Handling: 100 W
Characteristic Sensitivity (2.83V, 1m): 90.5 dB
Voice Coil Diameter: 51 mm
Voice Coil Height: 20 mm
Air Gap Height: 6 mm
Linear Coil Travel (p-p): 14 mm
Maximum Coil Travel (p-p): 35 mm
Magnetic Gap Flux Density: 1.23 T
Magnet Weight: 1.30 kg
Total Weight: 4.50 kg
Voice Coil Resistance: 6.3 Ohms
Voice Coil Inductance: 1.95 mH
Force Factor: 10.7 N/A
Free Air Resonance: 29 Hz
Moving Mass: 36.1 g
Air Load Mass In IEC Baffle: 3.5 g
Suspension Compliance: 0.8 mm/N
Suspension Mechanical Resistance: 3.4 Ns/m
Effective Piston Area: 350 cm2
VAS: 129 Litres
QMS: 2.14
QES: 0.40
QTS: 0.34
PRICE (1 off)
£159.10 +vat+p&p
Subscribe to Hifi Collective