Jantzen Alumen Z-Cap Capacitors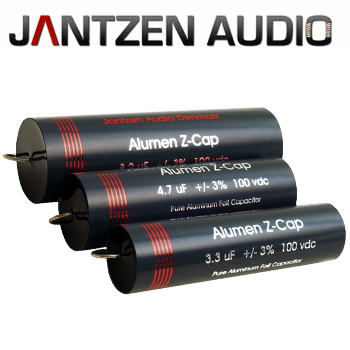 The Alumen Z-Cap is the newest addition to the Jantzen Audio line of Capacitors.
The Alumen Z-Cap has been specially designed for the tweeter and mid-section of your crossovers.
The improved transparency performance of this new cap is on the same high level as our SilverGold Z-Cap, but with a slightly softer tonal presence and less brightness/ sheene / glare in comparison.
The Alumen Z-Cap will offer a more "neutral" presentation in the overall sound in certain crossover designs, and by "neutral" we refer to the focus will be shifted from what can be a somewhat overemphasized brightness from a Super PP cap, being replaced with a more even balance between the depth of the midrange and the presence of the tweeter.
Jantzen uses a high tension machine to wind all their capacitors, thus producing very tightly wound capacitors. As a result they offer incredibly low inner vibration and keep micophony as low as possible. They have a tolerance of 3% and have high-grade copper leadouts. The finish is a flame-retardant tape wrap, and the end of the caps are resin sealed to protect against humidity. Another key feature is, they do not need pre-aging, so no lengthy burn-in required.
Alumen Z-Cap is a non-polarized capacitor. The signal path can be in either direction without changing the sound or performance.
Available in 1uF, 1.5uF, 2.2uF,  2.7uF, 3.3uF, 3.9uF, 4.7uF, 5.6uF, 6.8 uF,  8.2 uF and 10uF
New values 1uF, 1.5uF and 10uF
All Jantzen Caps are lead-free and RoHS compliant.
Specifications
Pure aluminum foil with PP dielectric insulation
Voltage rating: 100 VDC
Capacitance tolerance : +/- 3% centered on nominal value
Temperature range: -30C to +85C
Extremely low ESR and SEL
Non inductive construction
Terminal leads are made from PCOCC copper (oxygen free)
Dissipation factor: .0001
Subscribe to Hifi Collective