Jantzen Bi-polar Electrolytic Capacitors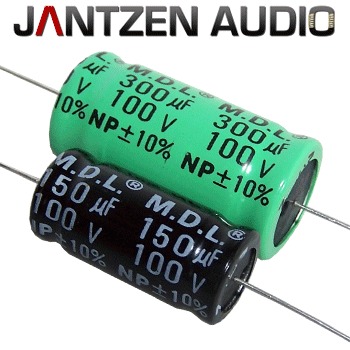 The Jantzen bi-polar aluminium electrolytic range of capacitors offer a low cost broad range of capacitors ideally suited to cross-over use. Electrolytics are often used in loudspeakers where cost and space is limited. They are non-directional / non-polarised / bi-polar so they can be fitted either way round.
All Jantzen Caps are lead free and RoHS compliant.
Specifications
Capacitance: 1uF to 560uF, 100V DC rated
Voltage: 100V DC rated
Leakage current: Max. 0,03 CV + 3 uA (after 5 min. Application)
Temp. Range: -40 C to + 85 C
Tolerance: 10%
Max. Dissipation Factor: Max. 6% at 1KHz
After 1000 hours of application at 85 +/- 2 C:
a.) Capacitance change: Within +/- 25% of initial value
b.) Tan: 150% or less of initial specification
c.) Leakage current: Installed specified value or less
Subscribe to Hifi Collective