Jantzen Amber Z-Cap Copper Foil Capacitors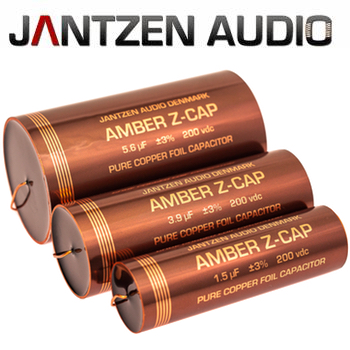 The Amber Z-Caps were specially designed for the tweeter section of crossovers for passive hi-fi speakers. They are also excellent for mid-range application, but due to the price-point, Alumen Z-Caps will often be a better choice from a price versus performance perspective.
Compared to the Alumen Z-Caps, the Amber Z-Cap will offer an even more "neutral" presentation in the overall sound in certain crossover designs, and by "neutral" we refer to the focus will be shifted from what can be a somewhat overemphasised brightness from a Super PP cap, being replaced with an evener balance between the depth of the midrange and the presence of the tweeter.
Due to the lower voltage rating, we advise customers to be mindful when using Amber & Alumen Z-Caps for tube and power amplifier application. For upgrading the coupling capacitors in amplifiers, we instead recommend choosing our Superior or Silver Z-Caps (Double-foil Super MKP capacitors).
Amber Z-Cap is a non-polarized capacitor. The signal path can be in either direction without changing the sound or performance.
Available in 1uF, 1.5uF, 2.2uF,  2.7uF, 3.3uF, 3.9uF, 4.7uF, 5.6uF, 6.8 uF and 8.2 uF
All Jantzen Caps are lead-free and RoHS compliant.
To read the Review by Mr Troels Gravesen, click HERE.
KEY INNOVATIONS
An extremely fast-reacting capacitor
Ultra-thin dielectric insulation to eliminate memory effect in the capacitor
Very low ESR, SEL, inductance, and dielectric absorption data
High-quality pure copper foil wound with highly specialised machinery and precision winding techniques
The centre of the capacitor is enforced by small steel balls to further ensure stability and shape of the capacitor
The specialised winding technique and overall quality of this capacitor enables us to offer a high-end product with a lot less distortion compared to the market standard
Specifically designed for the tweeter and mid-range section of passive crossovers
Can also be used as coupling capacitors for transistor amplifiers
Capacitance tolerance is +/- 3%
Specifications
Capacitor foil: 99.99% purity cold-rolled copper foil
Dielectric insulation film: Polypropylene
Voltage rating: 200 VDC / 130 VAC
Capacitance tolerance: +/- 3% (on nominal value)
Temperature range: - 30C to + 85C
Extremely low ESR and SEL data
Non inductive construction
Terminal leads: Pure PCOCC grade copper
Dissipation factor: .0001
Signal direction: None (non-polarised capacitor)
Subscribe to Hifi Collective