Jantzen MKT Cap Metallized Polyester Film Capacitors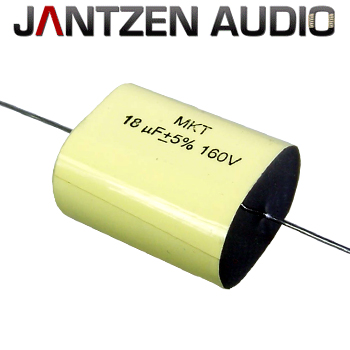 Entry level capacitors from Jantzen. These metallized Polyester film (ZnA1) are design to suit loudspeaker crossovers. The foil sides are covered with a layer of Zinc and then filled up with Polyurethane resin. Lead outs are made from tinned copper wire. They are yellow in colour and flattened for compact size and easy application. All parameters in accordance with IEC 384-1. A great sounding capacitor considering it`s low price tag.
Alumen MKT are non-polarized capacitors. The signal path can be in either direction without changing the sound or performance.
Technical data:
Voltage rating: 160 VDC and 250 VDC
Tolerance: 10% (K)
Climatic category: 55/100/56
Loss factor at 1kHz (maximum): 8 x 10 ^-4
Insulation resistance at 100V: min.100000s
Values from 0.68uF to 18uF
Voltage rating 160Vdc and 250Vdc
Subscribe to Hifi Collective