Jantzen Superior Z-Cap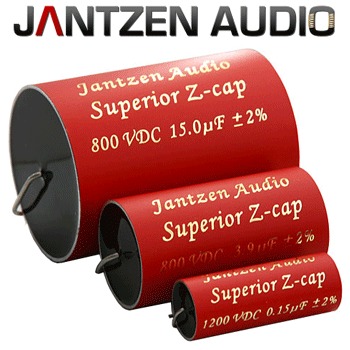 The Jantzen Audio Superior Z-cap range of metallized polypropylene offer a reasonably priced upgrade for signal and cross-over applications. Specifically designed for audio, these gems provide a superb sonic performance, good detailing and soundstaging with a natural tone. They are made if polypropylene film metalized with aluminum and zinc particles.

They have a wide range of values from 0.1uF to 22uF with a high voltage rating so they will be at home in any high HT valve equipment.

The production process results in minimal inductance by interleaving the capacitor windings. The two windings are connected in series. So, for example, it takes two 2uF windings to make a 1uF capacitor of practically zero inductance.
Jantzen use a high tension machine to wind all their capacitors, thus producing very tightly wound capacitors. As a result they offer incredibly low inner vibration and keep micophony as low as possible. They have a tolerance of 2% and have high grade copper leadouts. The finish is a flame-retardant tape wrap, and the end of the caps are resin sealed to protect against humidity. They have coppr leadouts. Another key feature is, they do not need pre-aging, so no lengthy burn-in required.
Superior Z-Cap are non-polarized capacitors. The signal path can be in either direction without changing the sound or performance.
All JANTZEN Z-CAPS are LEAD FREE and RoHS COMPLIANT.
Specifications
0.1uF to 0.33uF: AC Voltage 600V, DC Voltage 1200V
0.47uF to 22uF: AC Voltage 425V, DC Voltage 800V
Film: polypropylene film metalized with aluminum and zinc particles
Tolerance: 2%
Copper leadouts
Loss angle tan = 0.00002 to 1K
Loss angle tan = 0.00001 to 10K
Subscribe to Hifi Collective