Jantzen Premium ELKO Smooth Electrolytic Bipolar Capacitor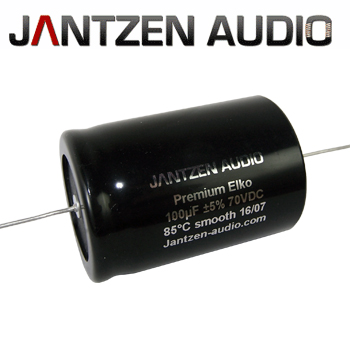 The Premium ELKOs are made with a smooth foil to allow for less loss and to offer better performance and sound in audio applications.
They are small in size and offer good performance on crossovers, where sizing is an important factor.
These capacitors are especially excellent for the bass section of crossovers, due to their reasonable pricing in high capacitance values, compared to MKT or MKP capacitors.
These German made high-end bipolar electrolytic capacitors, are made with a thin dielectric insulation (70 VDC) and have a tolerance of only 5% on capacitance values.
The thinner dielectric insulation makes for a capacitor with very low ESR/SEL and low dielectric absorption, making it a fast-reacting audio-grade capacitor.
Bipolar electrolytic capacitors such as the Premium ELKOs, feature a secondary aluminium foil, providing sufficient AC voltage resistance, making them highly suitable for audio application.
Available in 3.3, 3.6, 3.9, 4.7, 5.6, 6.8, 8.2, 10, 12, 15, 22, 33, 47, 56, 68, 82 and 100μF.
Specifications
Voltage rating: 70 VDC 
Capacitance tolerance : +/- 5% - centered on nominal value 
Temperature range: -40°C/ -40°F to 85°C/+185°F 
Electric strength: AC50 - DC70 
Life span: [UR · R~] 5000 hours at +85°C/+185°F 
Loss angle: tan ∂ = 0.025@1kHz 
Extremely low ESR and SEL 
Subscribe to Hifi Collective