Glasshouse Interconnect Cable No.4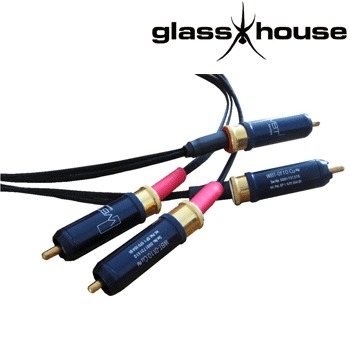 The Glasshouse Interconnect No.4 is a truly high-end cable without the huge price tag, comprised of the supreme Duelund Silver Foil & silk in oil wire 1.0 version with the WBT-0110 RCA plugs from Germany`s WBT. Devised by Chris Bell who has done a huge amount of research on interconnects. Click on the pdf links to get the low down. Please note that version 0.5 silver foil has been superseded by the version 1.0 wire, providing even better performance.
The following list is content for a 0.5metre pair.
2m x Duelund pure silver foil in silk/oil 1.0 version
2 x WBT-0110 Cu: nextgen RCA Connector (White)
2 x WBT-0110 Cu: nextgen RCA Connector (Red)
10cm x HTSR9.5, Red heatshrink 2:1, 9.5mm diameter
10cm x HTSB9.5, Black heatshrink 2:1, 9.5mm diameter
20cm x HTSC4.8, Clear heatshrink 2:1, 4.8mm diameter
50cm x Mundorf 3.8% silver/gold solder
1 x wooden spacer
We also offer the option to build using the following, this adds £40.32 to the price
2 x WBT-0110 Ag: nextgen RCA Connector (White)
2 x WBT-0110 Ag: nextgen RCA Connector (Red)
Price for a stereo pair (from)
£225.41 +vat +p&p
Subscribe to Hifi Collective