EL34 Monoblocks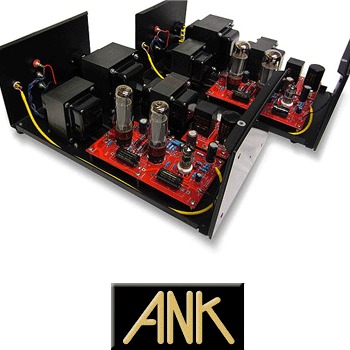 ANK Audiokits is pleased to announce the highest level EL34 amplification product - the EL34 Artiste Triple C-Core Monoblocks 40W per channel. This product has been under development for the last 2 years!. The Triple C-Cores bring a weight and authority to the EL34 sound that must be experienced, and the DUAL 5AR4 rectification brings a smoothness to the sonics that will make you addicted to tube rectification.
To suit a variety of budgets we offer the Monoblocks in 3 level configurations. Customers can start with level 1 or level 2 and upgrade later to level 3.
This amplifier uses an enhanced Power Supply with high quality IE-Core or C-Core Output Transformers for 40W per channel. The unit uses Takman Resistors from Japan (non magnetic), Mundorf Oil Film Caps and Shuguang EL34 Tubes.
PLEASE NOTE
We no longer stock ANK AudioKits direct, however we do support them and hold their kits in high regard. We would ask you to make your inquiry direct to ANK. If you mention Hi-Fi Collective, they will give you a 5% discount.  Please e-mail us at info@hificollective.co.uk and state that you have expressed an interest in ANK Kits. If you make a purchase with ANK kits they will let us know and we will furnish you with a one off 10% discount voucher to use in the Hificollective shop. We also offer upgrade kits for ANK kits.

To contact ANK Kits, please e-mail him at Brian Smith.
For the Upgrade Kit for this product please click HERE
Subscribe to Hifi Collective