DAC 4.1 C-Core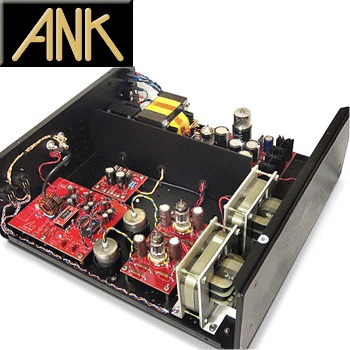 The ANK Audiokits DAC 4.1 has been our most popular DAC since 2011. For the ultimate in digital reproduction the DAC 4.1 offers velvet smooth operation with no digital artifacts or treble edge. Following the Audio Note tradition of Non Oversampling Resistor Ladder Architecture (R-2R) pure digital to analog conversion method, it hardwires digital information directly to output voltage. And with triple C-Core transformers digital reproduction never sounded so good!
The latest version of the DAC 4.1 boasts numerous features and supports up to 24/96khz sampling and data widths. The DAC also has the M2 tube rectified and regulated power supply for ultimate smoothness. To complete the pure digital to analog design of the DAC 4.1 the digital board has no analog filtering (analog filtering has been totally removed). If you are looking for digital sound reproduction with no digital artifacts and smooth as velvet output with no fatigue then the DAC 4.1 is the kit for you!
DAC 4.1 features include
• Triple C-Core Output Transformers.
• Pre-assembled Digital DAC board with Toroidal Input Transformers and Elna Cerafine capacitors.
• Enhanced M2 Power Supply uses high quality RubyCon electrolytics and Panasonic FC Caps on filament position.
• 5687 Driver Board with Audio Note Tantalum Resistors, mundorf Silver Gold Oil Film Capacitors and Elna Cerafine bypass Caps.
• Support for XLR, RCA (SPDIF) and optional USB input and both RCA and XLR Balanced Outputs.
• Optional USB input board.
PLEASE NOTE
We no longer stock ANK AudioKits direct, however we do support them and hold their kits in high regard. We would ask you to make your inquiry direct to ANK. If you mention Hi-Fi Collective, they will give you a 5% discount.  Please e-mail us at info@hificollective.co.uk and state that you have expressed an interest in ANK Kits. If you make a purchase with ANK kits they will let us know and we will furnish you with a one off 10% discount voucher to use in the Hificollective shop. We also offer upgrade kits for ANK kits.

To contact ANK Kits, please e-mail him at Brian Smith.
Subscribe to Hifi Collective