DAC 2.1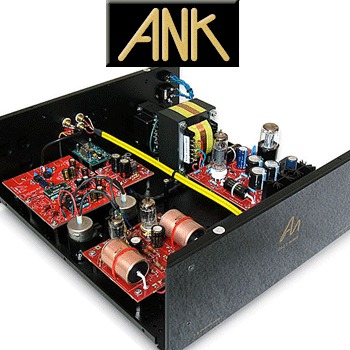 The aim at ANK Audiokits is to provide hi-end audiophile performance at prices most people can afford. This model was first introduced in 2007 and is one of our biggest selling products. It incorporates the M2 Power Supply PCB with mounted heat sinks, Audio Note Digital Board and a 6922/6DJ8 Output Stage designed by Audio Note UK's engineer Andy Grove.
The DAC also has I/V Transformers to maximize energy transfer in the digital to analogue section coupling.
Even though the Dac 2.1 is our lowest priced DAC it hits well above it's price point and is a true audiophile DAC in it's own right. It is also a great investment as it can later be upgraded to the DAC 4.1.
To complete the pure digital to analogue design of the DAC 2.1 the digital board uses the Audio Note Non-Oversampling architecture for sonic purity and has No Analog Filtering (analogue filtering has been totally removed). We have found oversampling and having analogue filtering in the signal path has a marked detrimental effect on sound quality.
Here are some of the things that make this DAC kit a clear cut above the rest:
Dual 6922 (individually heated) Analog Board.
Digital and Analog sections both have shielded AC Secondaries.
The highly praised and enhanced M2 Power Supply is used for the analogue section.
No Analog Filtering (analogue filtering has been totally removed).
I/V Transformers
USB digital input option.
Digital Board comes ready assembled.
Highly configurable with a great range of options and upgrades available.
PLEASE NOTE
We no longer stock ANK AudioKits direct, however, we do support them and hold their kits in high regard. We would ask you to make your inquiry directly to ANK. If you mention Hi-Fi Collective, they will give you a 5% discount.  Please e-mail us at info@hificollective.co.uk and state that you have expressed an interest in ANK Kits. If you make a purchase with ANK kits they will let us know and we will furnish you with a one off 10% discount voucher to use in the Hificollective shop. We also offer upgrade kits for ANK kits.

To contact ANK Kits, please e-mail him at Brian Smith.
For the Upgrade Kit for this product please click HERE
Subscribe to Hifi Collective