L3 EL84 Series Amplifiers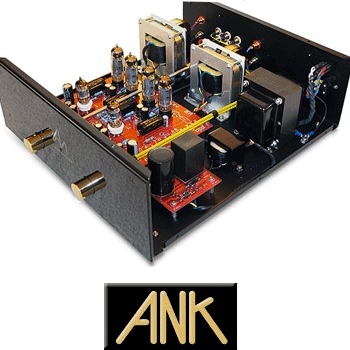 We are pleased to introduce the new limited edition L3 EL84i CLASS AB Integrated/Power Amplifier as part of the L3 Series. For lovers of this glorious power pentode ANK have designed an amplifier for the ultimate enthusiast. This will be a Limited Edition offering for 2012 delivering 20W of ultimate EL84 Pentode glory through our new Triple C-core Output transformers. Reserved for the ultimate EL84 purist that needs 20W of CLASS AB power.
The output transformers are our new Triple C-core offering which extend the bass and treble frequency and really allow the EL84 to be heard in all its glory with nothing holding it back! A high quality ELMA selector and DACT extension kit, along with our ALPS 100K volume pot (or upgradeable pot of your choice) makes for an EL84 amplifier of the highest standard. Delivering close to 20W of CLASS AB power, this integrated can drive most any speaker but it is also ideal for ultimate delicacy and finesse and slam on high 80's DB rated speakers.
We have configured the amplifier as an integrated with 3 pairs of inputs or a pure power amplifier.
PLEASE NOTE
We no longer stock ANK AudioKits direct, however we do support them and hold their kits in high regard. We would ask you to make your inquiry direct to ANK. If you mention Hi-Fi Collective, they will give you a 5% discount.  Please e-mail us at info@hificollective.co.uk and state that you have expressed an interest in ANK Kits. If you make a purchase with ANK kits they will let us know and we will furnish you with a one off 10% discount voucher to use in the Hificollective shop. We also offer upgrade kits for ANK kits.

To contact ANK Kits, please e-mail him at Brian Smith.
Subscribe to Hifi Collective