L1 EL84 Integrated Amp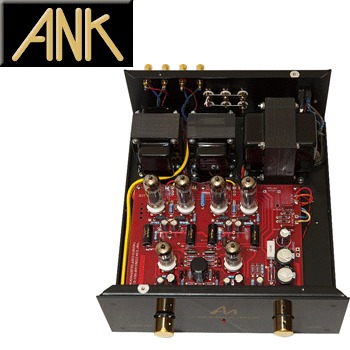 ANK Audiokitis pleased to announce the first of the new L1 series - the L1 EL84 Integrated Amplifier - 17W per channel of pure CLASS AB1 brilliance!
Andy Grove's (of Audio Note UK) latest design employs a similar architecture to our bigger brother L4 series EL34 35W power amp; utilizing the ECF80 driver tube for each pair of EL84's. The kit has been designed for new and experienced audio builders and is easy to assemble. We are using a 3mm Aluminum chassis powder coated black for serious robustness - the custom designed Audio Note transformers are manufactured to the highest specifications and each one is individually tested prior to shipping! The unit is small measuring 11" wide, 13" front to back, and 4.5" high (the entire L1 series will be this measurement size). Just for reference our L2/L3/DAC3.1 series for example measures 13.5" wide x 14" front to back. The amplifier weighs 18.5 lbs.
PLEASE NOTE
We no longer stock ANK AudioKits direct, however we do support them and hold their kits in high regard. We would ask you to make your inquiry direct to ANK. If you mention Hi-Fi Collective, they will give you a 5% discount.  Please e-mail us at info@hificollective.co.uk and state that you have expressed an interest in ANK Kits. If you make a purchase with ANK kits they will let us know and we will furnish you with a one off 10% discount voucher to use in the Hificollective shop. We also offer upgrade kits for ANK kits.

To contact ANK Kits, please e-mail him at Brian Smith.
Subscribe to Hifi Collective