Interstage Monoblock 300B C-Core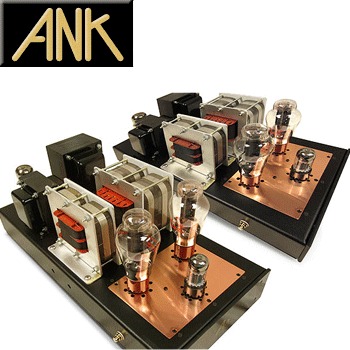 The Interstage amplifier is the highest and most extreme expression of Single Ended Amplification reserved only for the true connoisseur audiophile. The Interstage transformer design style is currently used on Audio Note's top of the line On Gaku 211 amplifiers.
The unique design style makes use of an interstage transformer on each channel - rather than having an additional tube driver stage, the interstage transformer takes over this task for ultimate authority! This level of musical reproduction has never been available before as a kit 300B SET amplifier.
The Interstage MonoBlocks first released in 2007 have been undergoing many enhancements in the last 6 years in response to ANK's own R&D and customer requests.
From the new dedicated Mains transformer for single and parallel configurations, the new 300ma CHOKE, mechanical enhancements to the chassis , new DC FILAMENT section , Audio Note silver RCA's , binding posts & 2W tantalum resistors , new 4 pole Mundorf power supply cap for ultra low noise and superb grounding scheme. Todays blocks are simply a superb build experience with outrageous sonic results! The new ALL C core version brings the interstages to a new level of audiophile appreciation!
Our new C-Core output transformers are some of the latest in C-Core techonology. They are custom manufactured to our own exacting specifications and take single ended glory to a higher level. Increased dynamics, authority and insane accurate high end detail. We offer each Monoblock pair as Double 300B tube configuration (uses a Quad C-Core transformer). As you can imagine, all variants sound fabulous!
PLEASE NOTE
We no longer stock ANK AudioKits direct, however we do support them and hold their kits in high regard. We would ask you to make your inquiry direct to ANK. If you mention Hi-Fi Collective, they will give you a 5% discount.  Please e-mail us at info@hificollective.co.uk and state that you have expressed an interest in ANK Kits. If you make a purchase with ANK kits they will let us know and we will furnish you with a one off 10% discount voucher to use in the Hificollective shop. We also offer upgrade kits for ANK kits.

To contact ANK Kits, please e-mail him at Brian Smith.
Subscribe to Hifi Collective