Kit1 - 300B - 8th Anniversary Edition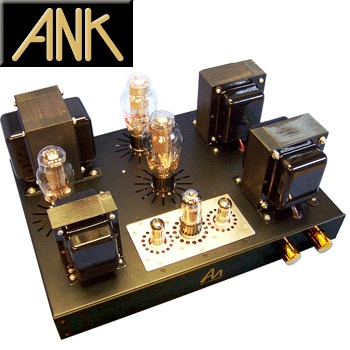 ANK Audiokits is proud to present our latest version of the classic Kit1 we are calling the Kit1 -300B 2014. This classic kit is what started the Audio Note kit business back in 2004! The resounding success of the original design and popularity of the Kit1 helped us build the company to where we are today. Our copper insert plate now comes as standard with the kit, or we can supply with a chrome insert plate - contact us for a quote.
The chassis is now 3mm aluminium powder coated black – we are using high quality BAK-Lite valve bases which fit right into the chassis with classic Audio Note venting. Large style grommets are used for the Mains transformer and choke! The classic 5U4G/5V3 rectifier tube is the heart of the power supply. A 6SN7 / CV181 driver tube followed by a pair of NOS 5687s drive the Shuguang 300B's we supply with the kit.
The new Filament Board PCB has the heat sinks mounted directly on them instead of against the chassis which takes care of isolation perfectly. AudioNote silver RCA's and AN speaker posts round out the kit.
The kit comes as standard with the high quality TAKMAN 1W (non magnetic) resistors with the option to be upgraded to Audio Note tantalums. (See below)
The high quality Mundorf Silver Gold Oil capacitors are now standard in the kit, and it is possible to supply Audio Note copper film caps (ask for a quote).
The amplifier has the option of an Elma selector switch with 3 inputs along with 2 black knobs for the 2014 look. The Kit1 is an incredible sounding 300B amplifier with a long history of customer success. Enjoy bringing your music alive with the Kit1!
PLEASE NOTE
We no longer stock ANK AudioKits direct, however we do support them and hold their kits in high regard. We would ask you to make your inquiry direct to ANK. If you mention Hi-Fi Collective, they will give you a 5% discount.  Please e-mail us at info@hificollective.co.uk and state that you have expressed an interest in ANK Kits. If you make a purchase with ANK kits they will let us know and we will furnish you with a one off 10% discount voucher to use in the Hificollective shop. We also offer upgrade kits for ANK kits.

To contact ANK Kits, please e-mail him at Brian Smith.
For the Upgrade Kit for this product please click HERE
Subscribe to Hifi Collective