L2 Line Pre-Amplifier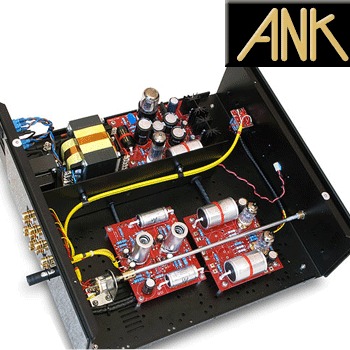 This amazing pre-amplifier has gorgeous tonal qualities that will outperform many extremely high end pre-amplifiers!
This product has evolved since the beginning of ANK Audiokits and has had rave reviews from many customers over the years and we have added many mechanical and electrical enhancements and improvements in all areas in that time. It is simply a stunning pre-amplifier that delivers extreme musicality and tonality!
The kit starts with our high quality Mains transformer and choke combination for the M2 tube regulated power supply. The thick 3mm PCB's, stainless steel hardware, and 3mm aluminum chassis powder coated black add up to great value. Gold AN brass knobs, ELMA selector and custom made extension kit with brass bushings take this pre-amp into a league of its own. AN tin caps and Beyschlag resistors are standard in the power supply and 12AU7 Line Board. An ELMA selector from Switzerland, ALPS pot with custom made PCB for easy connection, AN-A shielded cable and gold plated RCA's finish off the kit in style!
Pictured on this page is our Signature version of the kit which includes the AN copper caps and AN tantalum resistors. You can purchase the kit as a standard version, or alongside the upgrade package.
Features:
3mm aluminum Powder coated Chassis
CRS steel divider plate powder coated with holes and grommets
3mm thick PCB's through out
Heavy Duty gold plated RCA's
AN-A cable
AN brass Gold Knobs
AN Tin film caps
ALPS volume Pot
Beyschlag resistors
Rubycon Electrolytics
Extension kit with brass bushings
PTFE hookup wire
PLEASE NOTE
We no longer stock ANK AudioKits direct, however we do support them and hold their kits in high regard. We would ask you to make your inquiry direct to ANK. If you mention Hi-Fi Collective, they will give you a 5% discount.  Please e-mail us at info@hificollective.co.uk and state that you have expressed an interest in ANK Kits. If you make a purchase with ANK kits they will let us know and we will furnish you with a one off 10% discount voucher to use in the Hificollective shop. We also offer upgrade kits for ANK kits.

To contact ANK Kits, please e-mail him at Brian Smith.
Subscribe to Hifi Collective