Kit1 - 300B - 10th Anniversary Edition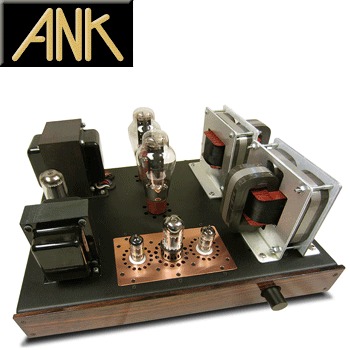 The Audio Note Kit1 became an instant hit when it was launched back in the 1990's and introduced hundreds of audiophiles to the sound of single ended 300B zero feedback. It is a favourite at ANK Audiokits, and we have continued enhancing the kit with each production run. The original Manual was written by Peter Q which we have upgraded with colour graphics and wiring diagrams.
The 1.7mm thick steel chassis was upgraded to 3mm aluminium, enhanced filament heat sinks and valve bases where added, a new faceplate, selector switch options, Takman Resistors on the standard version, plus insert plate in stainless steel or copper rounds up the enhancements to the Kit1.
To celebrate the wonderful history of the Kit1 we are releasing the Kit1-10th Anniversary Limited Edition with triple C-Core output transformers, Takman Resistors, ELNA Cerafine Caps and Mundorf Silver Oil Film Caps. The amplifier has the option of an Elma selector switch with 3 inputs.
An extraordinary version of this amplifier – we believe it is sure to be a collectors edition for years to come! To hear what a Kit1 is truly capable of, you have to hear the Kit1-10th variant, it is a revelation.
The new Triple C-Core single 300B output transformers supplied with the Kit1-10th anniversary edition are some of the latest in C-Core technology. These transformers are manufactured to exacting specifications allowing us to take the Kit1-10th to an amazing level of sonics. Increased definition, authority and high end information allow piano and vocals to strike right in the heart! The already amazing single ended sonics of the Kit1-8th matched with the Triple C-Core output transformers provide an audiphile experience reserved for but a few!
PLEASE NOTE
We no longer stock ANK AudioKits direct, however we do support them and hold their kits in high regard. We would ask you to make your inquiry direct to ANK. If you mention Hi-Fi Collective, they will give you a 5% discount.  Please e-mail us at info@hificollective.co.uk and state that you have expressed an interest in ANK Kits. If you make a purchase with ANK kits they will let us know and we will furnish you with a one off 10% discount voucher to use in the Hificollective shop. We also offer upgrade kits for ANK kits.

To contact ANK Kits, please e-mail him at Brian Smith.
Subscribe to Hifi Collective