Interstage Monoblock 300B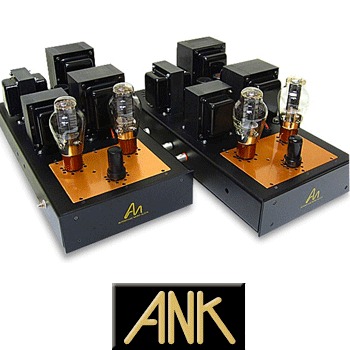 The Interstage amplifier is our highest and most extreme expression of Single Ended Amplification reserved only for the true connoisseur audiophile. The Interstage transformer design style is currently used on Audio Note's top of the line On Gaku 211 amplifiers.
The unique design style makes use of an interstage transformer on each channel - rather than having an additional tube driver stage, the interstage transformer takes over this task for ultimate authority! The Interstage Mono Block provides a level or realism and detail that you may not have experienced.
Recent enhancements to the blocks have taken them to a totally new level. We have a new Mains transformer - the T-195 dedicated to the Legend & Interstage MonoBlocks for both parallel and single Triode configurations. We have enhanced the Choke to anew CH-170 for 300ma capacity. The Interstage transformer is bifilar wound and sits on a very large Core for maximum bass response.
The mechanical design of the unit is second to none using all stainless steel metric hardware; countersunk screws and removable insert plates for a truly fun build experience. Power supply and driver circuitry is all hardwired and uses the latest Mundorf Mlytic 4-pole capacitor technology.
PLEASE NOTE
We no longer stock ANK AudioKits direct, however we do support them and hold their kits in high regard. We would ask you to make your inquiry direct to ANK. If you mention Hi-Fi Collective, they will give you a 5% discount.  Please e-mail us at info@hificollective.co.uk and state that you have expressed an interest in ANK Kits. If you make a purchase with ANK kits they will let us know and we will furnish you with a one off 10% discount voucher to use in the Hificollective shop. We also offer upgrade kits for ANK kits.

To contact ANK Kits, please e-mail him at Brian Smith.
Subscribe to Hifi Collective