Neotech NEVD-2001 Pure Silver Digital Cable - 75 Ohm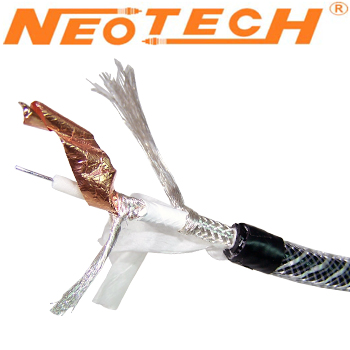 NEVD series cables are specially designed for Digital Audio and Video signal transmission. As the characteristic of Digital Audio/Video signal is for delivery of ultra-high frequencies, the concept of how to minimize the signal loss is the key for the Neotech design team. NEOTECH NEVD- a coaxial design cable with the feature 75-ohm impedance which provides wide bandwidth to reduce jitter & give maximum resolution. For digital audio and HDTV video application.
The Neotech NEVD-2001 has a pure Pure Silver conductor with quad shielding. The conductor is insulated with Physics Foam Polyethylene, then Cu-Mylar Screen Foil, then Microporous PTFE and an SP-OFC Braided Shielding.
Bare conductor diameter 0.64mm, Overall cable diameter 8mm, with a diameter of 7.5mm without the expandible sleeving.
PRICE per 0.25m
£16.92 +vat +p&p
Subscribe to Hifi Collective