Neotech NEMOI-1220 Rectangular OCC Silver Interconnect Cable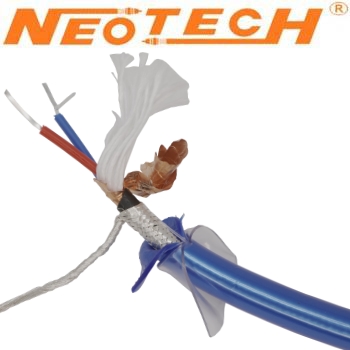 The Neotech NEMOI-1220 is a new cable that features Neotech's excellent rectangular OCC silver wires as its core. With a PVC outer jacket.
The NEMOI-1220 is the top specification cable from the rectangular range. It uses UP-OCC rectangular silver foil for the 2 internal conductors. Individually sheathed in Teflon insulation, and further PE sleeved in red and blue colours. The conductors sit in a polyester filler, wrapped in copper mylar film, then black PVC, shrouded in a tightly knit braided silver-plated copper shield. A further black PVC jacket and finally an outer clear PVC covering.
The outer diameter measures 10mm, with the clear PVC jacket removed the diameter is 8.75mm. Each red and blue PVC covered conductor measures 2.5mm. The internal silver conductors measures 1.3mm (width) x 0.25mm (thick).
This cable has low inductance and capacitance and offers a highly detailed beautiful tone.
PRICE per 0.25 metre
£27.83 +vat +p&p
Sold by the 0.25 metre, supplied in continuous lengths. So for a 1m interconnect cable please order 0.25m x8.
Subscribe to Hifi Collective