Neotech NEI-2001 Pure Silver Interconnect Cable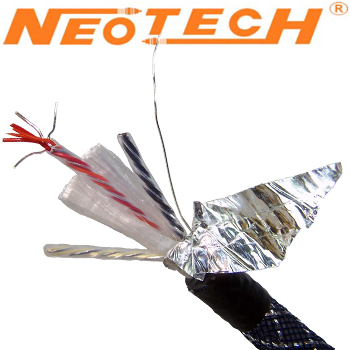 The NEI-2001 is a screened cable built up of 3 sets of pure silver conductors. So it is suitable for making XLR cables and RCA interconnect cables.
The cable has an external diameter of 11mm, the outermost layer is composed of expandable sleeving, under which you have a thick PVC jacket (walls 2mm thick). The aluminium mylar shield is the next layer this greatly reduces RF and EM interference, part of the screen is a solderable wire of 0.57mm diameter, AWG 23. There are 3 conductor sets, clear, black and red. These sit in 3 bunches of PP net filler. Each conductor set is insulated in clear Teflon of diameter 2.65mm. Within are 3 lengths of unsleeved pure silver uniformly twisted with 4 lengths of Teflon filler strands within. The 3 strands of silver are of differing diameters - 0.4mm (AWG 26), 0.51mm (AWG 24) and 0.65mm (AWG 22).
For use as XLR cable you use the RED - HOT, BLACK - COLD, CLEAR - RETURN, and the screen for the earth at the signal source end.
For use as RCA cable you use the RED - SIGNAL, BLACK - RETURN, CLEAR - and the screen for the earth at the signal source end.
This cable has amazing transparency and detail. An incredibly high-end cable that is comparable to manufactured interconnects of a price tag of £500 for a meter pair.
PRICE per 0.25m
£31.92 +vat +p&p
Sold by the mono 0.25 metre, supplied in continuous lengths. So for a 1m stereo interconnect cable please order 0.25m x8.
Subscribe to Hifi Collective