Neotech NEI-1002 UP-OCC Silver Interconnect Cable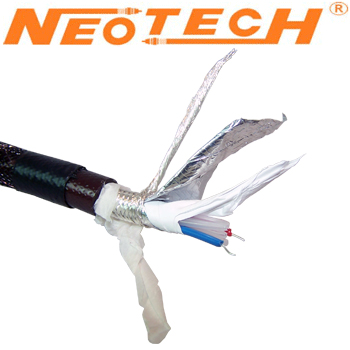 The Neotech NEI-1002 is a heavily screened cable built up of 2 x UP-OCC pure silver conductors. Ideal for RCA interconnect cables which can be used as an XLR cable when the screen is used as the RETURN.
The cable has an external diameter of 11mm, the outer covering is expandable sleeving. Underneath this you have a soft PVC covering with walls measuring 2.1mm thick, then we have a silver-plated OFC mesh that acts as the screen, greatly reducing RF and EM interference along with an aluminium mylar foil. The screen portion is insulated by PTFE tape. The 2 conductors, coloured red and blue are twisted with 4 lengths of 1.9mm diameter PTFE tubing centrally. The conductors are PE insulated each with a diameter of 2mm, enclosing a single strand of 0.65mm, AWG 22 of UP-OCC pure silver wire.
For use as RCA cable, you use the RED - SIGNAL, BLUE - RETURN, SCREEN + FOIL for the earth at the signal source end.
This cable is open and detailed and an absolute must for hunting a high-end sound without a high-end price.
PRICE per 0.25m
£32.05 +vat +p&p
Sold by the mono 0.25 metre, supplied in continuous lengths. So for a 1m stereo interconnect cable please order 0.25m x8.
Subscribe to Hifi Collective