Mundorf HeadCap - DISCONTINUED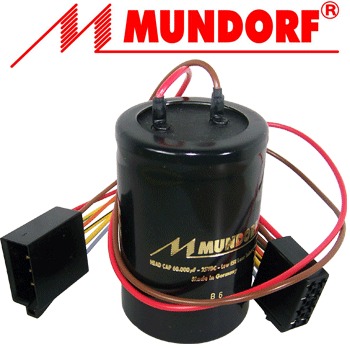 Storage capacitors are commonly used in high-end car audio system. Because no equipment is better than it's power supply!
The Mundorf HeadCap is available in 3 versions. At the heart is a low ESR 68000uF 25V electrolytic capacitor. The PCC68L is the basic capacitor with M5 terminals. The PCC68 is the capacitor wired up to ISO plugs for easy wiring and the PCC68i is the PCC68 with a charging current limiter circuit incorporated.

Effectively the HeadCap is put in parallel with the positive and negative power lines. This guarantees stabilized voltage directly into the amp or head unit, providing clean music reproduction. The HeadCaps are optimized for the highest power pulse currents, the MUNDORF storage capacitor range ensures extra power at the decisive moment. Additionally the HeadCap is used to filter out some frequencies generated by your alternator. It helps to stablize the head unit's Power supply from ripple, sudden drops in voltage when used with high-current amplifiers. The result is a powerful and precise bass and a brilliant, open sound characteristics.

Even if your head unit doesn't have integrated power stages installing a HeadCap will bring a significant improvement in sound quality by ensuring ideal power conditions for signal processing in the head unit. The result is a much smoother and more clearly delineated sound, with more powerful and clearer basses. A small investment for such an impressive result. 

Please note that the SC68 is no longer in production. 
Check product pages for exact sizes and price.
Subscribe to Hifi Collective