Mundorf MLytic HC Electrolytic Capacitors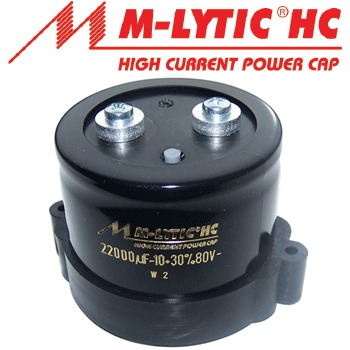 A patented method for internal contacting enabled the creation of a very low ESR with residual inductivity.
These MLytic® HC electrolytic capacitors are designed for continuous current of up to several hundred amperes. Therefore, they have been prepared for mounting on a heat sink if so required.
Due to these characteristics, MLytic® HC capacitors can supply extreme peak currents. They are the only choice when it comes to equipping transistor amplifiers with an uncompromising power supply.
They do this very quickly and thus form the basis for a dynamic, precise bass as well as a lively and clear middle/high frequency range. Even with extreme bass impulses the playback remains stable and clean, without any compression effects whatsoever.
Specifications:
Low heat resistance
Long operational lifespan
Extremely large ripple currents
All contacts welded
Screw connections
Assembly brackets
Ready for the attachment of heat sinks
Ultra low equivalent series inductivity
Technical specifications:
Temperature range: -40 to +105 degree C
Max. reverse voltage: 2V
Leakage current 5 Min. @ Ur:0.008 * C [μF] * U [V] + 6mA
Leakage current 1 h @ UR: 0.12 * leakage current 5 min @UR
Specs.: DIN 41332 IEC 384 - 4
Insulation: Heat shrinkable tubing/ Silicon plates
test voltage 2500 VAC
Terminals: Screw connections M5 / M6
Shipment: incl. binding screw / fastening-clip
Check product pages for exact sizes and price.
Subscribe to Hifi Collective