Mundorf ECap AC Bipolar Capacitors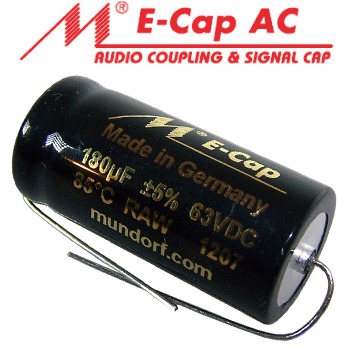 The ECap AC audio coupling and signal capacitors are bipolar electrolytic capacitors. These aluminium caps are used in applications where film capacitors are not suitable for reasons of space or cost, usually being a lot smaller than their film counterpart. They are heavily used in crossovers.

There are two ranges - the RAW series - the ECAP100 and ECAP63, formerly the BR100 and BR63 respectively. These are constructed of foils with surfaces are roughened by a special etching process that enlarges their surface area. As the capacitance is proportional to the surface, this process provides the smallest and cheapest solution.

Technical specifications of the ECAP100 & ECAP63:
capacitance range: 10uF to 800uF
electrical strength: 23Vac, 63Vdc (ECAP63) 35Vac, 100Vdc (ECAP100)
temperature range: -40 C to -85 C
Service life: 3000hrs Loss angle: Raw electrolytics: tan θ 0.05 @ 1kHz

The Plain series, namely the ECAP70 (formerly BG50) and the ECAP50 are made of smooth foils and are thus low loss. This has a positive effect on the sound. So if you have a choice use the Plain series.

Technical specifications of the ECAP70 & ECAP50:
capacitance range: 1uF to 100uF
electrical strength: 35Vac, 50Vdc (ECAP50) 50Vac, 70Vdc (ECAP70)
temperature range: -40 C to -85 C
Service life: 3000hrs Loss angle: Raw electrolytics: tan θ 0.025 @ 1kHz
 
IMPORTANT ANNOUNCEMENT
As of 6th May 2021, Mundorf has made the following announcement.
Our range of plain bipolar electrolytic capacitor series ECAP50 and ECAP70 is indefinitely unavailable from our current supplier.
In fact, this style of special foil is globally hard to find. Because more compact and economic raw electrolytic capacitors as well as miniaturised radial film capacitors and SMD capacitors are widely used in contemporary industrial applications and devices. In recent years, we have recognised that more and more vendors and products went out of business. Which was a great opportunity for us to grow in a consolidating and condensing market, as one of the last of its kind, offering this magnificent synthesis of low costs, compact design and good sound quality. Currently, we are trying hard to find an affordable and adequate alternative source. By now we have succeeded in raising a superb plain foil in the highest quality, at the price of larger dimensions and noticeably higher costs. Thus regrettably, our sales prices will multiply as will minimum order quantity.
As a result, you will notice that we have placed a stock announcement "currently unavailable, apart from remaining stock" on all ECAP50 and ECAP70 capacitors within our shop. Note we do still have some stocks but once they go, they go.
Subscribe to Hifi Collective