Mundorf MCap ZN Capacitors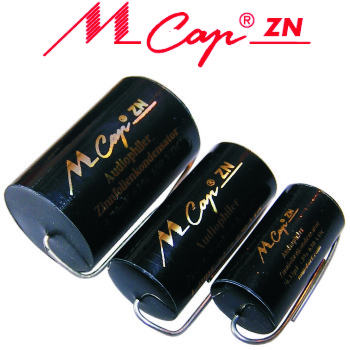 Thanks to the latest winding technology Mundorf are able to manufacture the MCap® ZN from ultra-pure, RoHS-compliant tin foil. In the past, it was necessary to add lead in order to gain the required softness of the foil for winding the capacitors. But lead used to have a tonal influence on the music signal, too.
Lead-free tin foil means, aside from positive environmental aspects, an improved sound characteristic. The enormous conductivity insures a lively music reproduction.
And last but by no means least the mass inertia of the tin foil prevents oscillations this provides transparency and spatality.


Technical specifications:
Dielectric: Polypropylene
Dielectric strengh: 100-630 VDC
Metall-foil: 6μF Tin
Loss factor: tan θ = 0.0002 at 1kHz; 0.0001 at 10kHz
Tolerance: +/- 3%
Check product pages for exact sizes and price.
Subscribe to Hifi Collective